If you didn't heard of Bitcoin Cryptocurrency and Blockchain technology yet, you must be living is a dessert with no internet and a feature phone. Cryptocurrencies and Blockchain are trending topics on most of social media these days. It's being said that Blockchain developments are revolutionary in many ways. I have met lot of people who've never mined a cryptocurrency or have any technical knowledge of how it works, I have to explain in non technical words of what is a Blockchain and how it works before they start questioning how to invest and what are the returns. In this Complete Explanation Guide, First Let's understand what the heck is Bitcoin, Cryptocurrencies and Blockchain before we start making predictions.
Why we need complex technology like Blockchain?
Before any technical explanations let me give you why Bitcoin (The first blockchain) was invented and what problems it can solve.
Assume that you're traveling out of your country and you run out of money on vacation and call someone in your family or friends for help of $1000. Your friend agrees to help and transfer the money and uses online banking  or banking app. which is considered fastest way to transfer money.
Before you make transfer your bank system checks if your friend's account has sufficient balance of $1000 which he wants to send to you. Imagine having a rich friend he holds more than $1000 which can save your happy times on vacation.
Now that your friend has sent $1000 to your bank account what you would do is go to bank or ATM and withdraw it.
Here your friend and you are trusting your bank to manage your money, There's no physical cash transferred to you by your friend but bank confirms that $1000 is transferred to your account by your friend. That's the problem of our current banking systems. You have to depend on third party (Bank in this case) to establish trust between you and your friend. That's been the same from years, you may ask yourself that what's the problem with that?
But the problem is that you're depended on a Bank which is singular in number.
What happens If there's any intentional or unintentional chaos in society or organization?
What if the Bank gets hacked?
What if the bank rejects to send the money to your account?
What if your app sends $1500 instead of $1000?
Is there any system where your friend could've sent you the money without involving bank in between?
You may have guessed it right! Blockchain is the solution to above question. It allows to transfer funds or data among ourselves without being dependent on singular identity. That makes sense!? Your mind must have raised many questions here so let's understand how the blockchain technology works with distributed ledger.
Understanding how Blockchain Distributed Ledger Works!
Blockchain technology involves multiple people who doesn't want to be depended on third party like banks and they can maintain their own register of ledger.
With e-currency based on cryptographic proof, without the need to trust a third party middleman, money can be secure and transactions effortless – Satoshi Nakamoto – 2009.
Assume that there are 10 individuals who doesn't want to use bank as middle man and creates their own open ledger without knowing each other at all.
A) Everyone has a empty ledger book with themselves as they start. As we progress all these people will maintain entries to their ledgers and collection of these entries will track transactions.
B) Now #1 wants to send $10 to #5. To do so #1 will have to announce and tell everyone that he wants to transfer $10 to #5. Everyone in the pool checks whether #1 has $10 which is to be transferred to #9. If #1 has enough balance and if yes then everyone takes a note. Hence the transaction is complete.
C) As various transactions keep happening among the network of 10 people they keep writing all transactions, doesn't matter who sends to whom. This continues until everyone completes their entry to their ledger book. Let's say there was only space for 10 entries on single page and now total 10 translations are complete. As soon as 10th transaction completed everyone ran out of space and it's time to use next page to continue the same process.
D) Before the page is put back into safe the page is sealed with unique key as agreed by the network. Sealing serves the purpose to keep it secure and no one else can make changes to it once it's put in the safe. The changes are never made to those entries NEVER and by sealing it with unique key everyone trusts the contents written on the ledger.
In example when you got your money transferred from bank, It was Bank who provided the trust but in above example you're trusting the ledger book which will never be changed. This ledger book will provide the trust to everyone instead of middleman.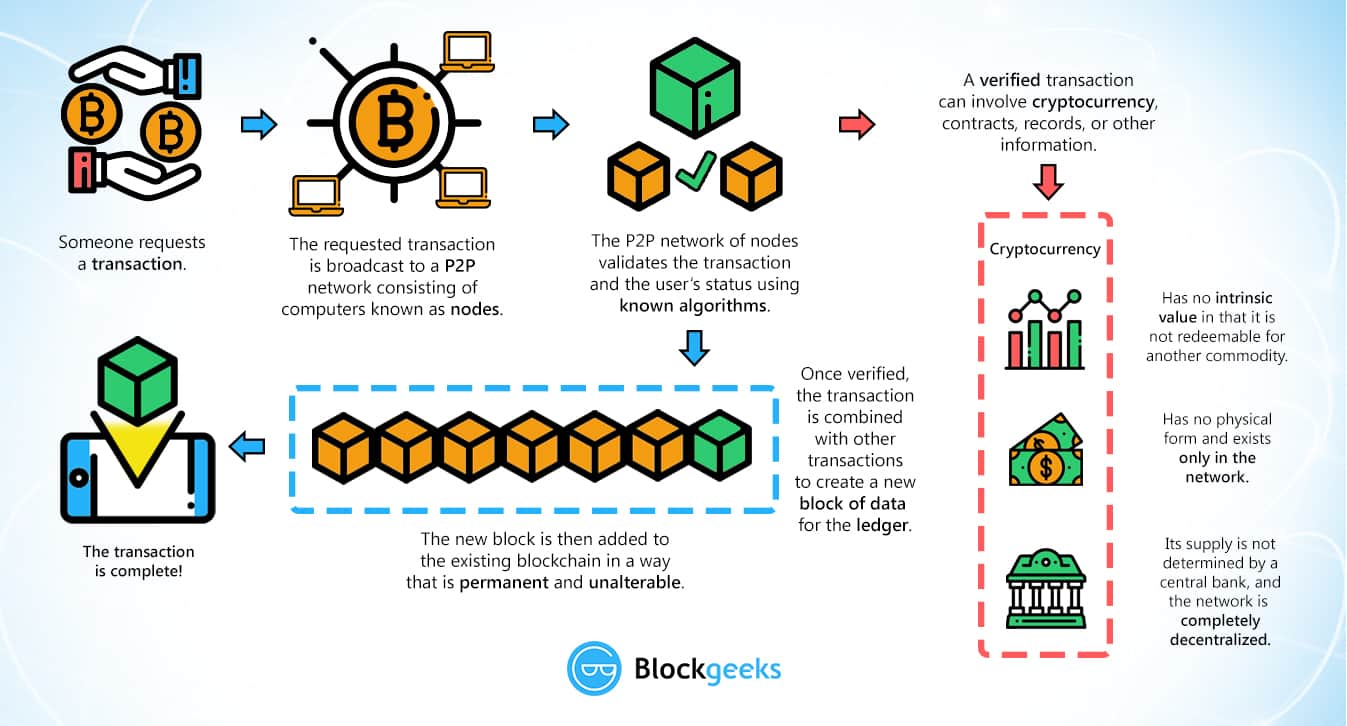 Image Credits – Block Geeks
That's exactly how the Bitcoin Blockchain works but this doesn't limit Blockchain technology only to Buying & Selling of Bitcoin but way beyond. It can be utilized with anything in real world to any extent. Let's understand the same from easy video published by IBM – Think Academy, Explaining how Blockchain works.
Now you understand why Blockchain technology is an revolutionary and promising technology. It helps us reducing the fraud, risk and providing transparency in very scalable way to all of it's users.
Some Key Points About Blockchain
Blockchain is specific ledger book / database of transactions.
It's different from other databases because it store data in blocks which are chained together.
If block is filled with entries / data and new entry comes, New block is formed and chained with previous block. That makes all data entries chained with each other in chronological order.
Decentralized Blockchain is where no single individuals of groups have control instead all users create environment where all users have control.
Decentralized blockchains can not be changed. Once data entries are filled they are recorded permanently and can be accessed by anyone.
All Blockchain data is stored securely which can't be altered providing security and transparency to users.
3 Important Concepts of a Blockchain: Blocks, Mining & Nodes
Open ledger makes sense but that's not only thing powering a full blockchain. There's more to the complete network which makes this more perfect than any other system in the century.  Let's understand what are those!
Blocks
What is a Block In the Blockchain?
Block is list of transaction / entries of data which are permanently recoded in network of blockchain. Consider block as a ledger or page of a book, Once block is completed with transaction entries next block is used for newer entries.  All blocks are linked with each other which makes a blockchain.
Block in network is important for transaction activity; maintaining transaction activities in block helps users to check what was paid by which party to whom. Blockchain uses peer-to-peer verification system which makes tempering with transaction data virtually impossible.
What are main elements of block in blockchain?
Block has three basic elements:
Data in the block.
32-bit number which is generated randomly when block gets created, It's called nonce. Nonce generates a block header hash.
Hash is a 256-bit number combined with nonce.
Mining
New blocks are created in blockchain by miners by solving mathematical problem, This process is called mining.
What is a Mining In Blockchain?
Each block has it's unique nonce and hash with references of previous block hash in the chain. With such setup mining block becomes hard especially when chain is huge. Special software is used for mining which solve very complex math problem of searching nonce that generate accepted hash.
You'll be amazed to know that there are nearly billion possible nonce-hash combinations which must be mined before finding the right one, This is because nonce is 32-bits and hash is 256-bits. When miner finds perfect nonce-hash combination it's called finding "golden nonce" and the block is added to the chain.
Changing block earlier in chain require complete re-mining not only the block which requires change but all of blocks after that particular block. That makes it very difficult to manipulate the blockchain and that's the essence of blockchain technology.
Once a block is mined successfully it's accepted by all nodes on the network and miner is rewarded for the work, That's called mining.
Nodes
What is a Node In The Blockchain?
Decentralization is the most important concept in the blockchain. No single individual, system or organization owns the chain but open distributed ledger connected to chain using the nodes. Nodes are electronic device that maintain copies of blockchain and functions to keep network active.
Each copy saved in node must approve new block using algorithms for the chain to be verified, trusted and updated with new entries. Every action in ledger can be easily viewed and verified, That's makes it transparent for all. Unique alphanumeric ID number is given to all node participants which shows their transactions.
Blockchain maintains integrity of system by keeping balance checks using public information, creating trust amongst all of it's users.
Is Blockchain secure? Can someone hack blockchain?
Security is the most important part when it comes to finances, Blockchain technology handles all issues like security and trust in multiple ways. All blocks are stored in straight line and in chronological order. All new ones gets added at the end of blockchain, just like a train. Each block has position on the chain which is called "height". As explained above it's difficult to go back and alter transactions of block once they're stored because of unique hash of each block, Complete system becomes heavily secure.
If some hacker alter the blockchain and steal Bitcoin or operating crypto currency from everyone else it won't match with everyone else's copy. When other cross references their own copies it becomes clear that the hacker's copy is different than everyone else's and the chain will make it illegitimate.
Only possible hack will require hacker to own or control 51% of nodes of blockchain so he can prove authenticity of transaction with 51% and passed through chain. This type of hacking attempt would require so much amount of money and resources as well requires to re-verify all previous blocks because they have different hash codes and timestamps. Due to size of major cryptocurrency blockchains like Bitcoin, Ethereum and XRP Ripple will be virtually impossible as the blockchain is huge and growing very fast.
What happens if someone did succeed to get 51% of nodes to alter transaction?
For a moment let's agree if such happens but this won't be unnoticed by other users of network and members can see alterations on the blockchain. Now members have option to fork new version of the same code and creating new version of chain which is not affected. This will make hacked version will lose value and the hacking attempt becomes pointless since hacker has the access of the blockchain. Awesome right!?
Blockchain VS Banks
You already know from above that decentralized blockchains are very different than Banks we use today. We have short comparison of Bank VS Blockchain to make this easy to understand.
Feature
Banks
Bitcoin
Privacy
Data stored in private servers of banks and limited to security of individual banks. If servers are compromised then all data of account holders will be compromised too.
Bitcoin Blockchain provides amazing feature for privacy. In Bitcoin blockchain privacy depends on users will. Bitcoins are traceable but impossible to find who has ownership of those bitcoins and can be purchased anonymously. Even BTC wallet platform where you store your bitcoin won't be able to track it. If Bitcoin is purchased from platform which requires KYC then only owner of BTC can be tracked by them.
Security
As secure as Bank server's security. Security breach can reveal all user information and can create chaos if hackers mess up with data.
Larger Bitcoin network means more security. Network can't be virtually hacked with more network nodes. However storing bitcoin on third party platform can be hacked since it's just same as storing money on bank servers. Bitcoins also can be stored on hardware wallets or computers.
Hours Open
Depending on Bank, mostly 9 AM to 5 PM on weekdays. Today's online banking is 24×7 but one may commonly face server issues at emergency.
Available 24×7, 365 days a year.
Transaction Fees
2% is common for local payments – Sometimes cross border payments may cost double of the money you're trying to send.
Variable transaction fees depending upon network congestion and mining difficulties. It can range from $0.1 to $50 sometimes but user gets to chose between how much they're willing to pay. However you can transfer $1 to $1 Billion for the same transaction cost to anyone, anywhere in the world having bitcoin address.
Transaction Speed
Card Payments – 24-48 Hours
Checks – 24 – 72 Hours
Wire Transfer – Within 24 Hours
Bank Transfers – 2-3 hours or Instant
15 minutes to 1 hour depending on network congestion.
KYC Rules
You must provide legal documents and follow Bank terms to open an account.
Anyone with Internet can open account instantly.
Approval of Transaction
Banks reserve right to disapprove your transaction for multiple reasons. Banks can also freeze your account and keep all money. In some countries Banks hold rights to deny withdrawals of all account in case of various situation or crisis.
Even network can't dictate how you're using your Bitcoin and users can easily send or receive Bitcoin to whomsoever they wish to.
Seizure of Account
Accounts can be easily seized or tracked by bank and governments for various reasons.
If used anonymously it would be very hard for anyone to track it down and seize it.
Bitcoin vs. Blockchain
Blockchain technology was first introduced in 1991 by Stuart Haber and W. Scott Stornetta. They wanted to create a system where no one can alter document timestamps but it was unfinished until two decades. Satoshi Nakamoto, pseudonymous creator of Bitcoin introduced that blockchain has it's first real world application.
Bitcoin uses blockchain technology to transparently record transactions but blockchain in theory can be used to store any data securely. This can be transactions, secret notes, election votes, product details, Identification details, poetry and everything else in form of data. As of today there are so many blockchain based projects which use blockchain technology for incredible ways to help world and make things easier rather than recording transactions.
Various Applications of Blockchain
Now you know that Blockchain like bitcoin is extremely useful for financial transactions but it come to light that blockchain is very reliable technology to store data and transactions other than finances.  Not only the Bitcoin blockchain but there are plenty of Cryptocurrency projects which are revolutionary, we can talk about those in later post but let's understand few applications of blockchain technology.
Currency
Bitcoin is revolutionary blockchain that we know but why!? Satoshi Nakamoto pseudonymous creator of Bitcoin, published the research paper introducing Bitcoin as digital currency and referred it as "a new electronic cash system that's fully peer-to-peer, with no trusted third party."
US dollar is controlled by the Federal Reserve, central authority system of USA. If bank server of users' bank is hacked all important information gets leaked, Stored value may get lost if users bank collapse or even if government collapse.  In fact many of the banks ran out of money were bailed out using taxpayers money. Those are some reasons why Bitcoin was invented by Satoshi Nakamoto.
Using blockchain technology across countries can remove need of central authority as well as dramatically reduce processing time and transaction fees. Countries with unstable currencies or institutions can transfer to more stable currency.
Banking & Finance
Blockchain technology is most beneficial to Banking and finance sector as current financial organizations can only operate in business hours and there are many limitations to it. In fast paced world today no one wants to wait 2 days to get their transaction completed. Using blockchain banks can cut down the time to fraction of seconds and drastically reduce the cost of operation and transactions. From this only single bank entity would save billions of us dollars every year to transfer money to another bank.
More to add if banks would like they can use decentralized blockchain to make their governance transparent & secure.
Healthcare
Blockchain can be very useful storing patients medical records, when medical record is generated it can be stored within blockchain which gives full confidence that record can not be altered by anyone. Those details can be encoded and stored with private key so only certain people can access the information with private key to ensure privacy.
Real Estate
Storing and searching property details can be very troublesome and current systems are still inefficient. One must share legal physical records to government employee to register property. Then it's manually recorded into country's central database and made available to public. The process is not only old fashioned, costly and takes lot of time but it can be altered and possible for human error.
Imagine how easy it would be to track records of all properties using blockchain which can be central or decentral depending upon choice of ruling government.
Voting
Governments uses huge amount of money for voting systems and still it isn't fail-proof. Blockchain can be utilized to facilitate current generation voting systems. Any type of frauds can be eliminated and all data can be transparent for everyone. Using blockchain in voting systems can save lot of money and man power giving transparency and instant results.
In fast this was tested in West Virginia midterm elections in 2019 which turned out great and results couldn't be tampered in any possible way.
Supply Chains
Current market in supply chains faces major problems like shipping management, authenticity of product and quality. Supply chains can use blockchain to track records of individual product giving ability to check originality of the product and also keeping track of time & cost for shipping.
There are few decentralized blockchains which solves the industry problems in amazing way but IBM food trust uses blockchain to record origin of materials. This would allow them to verify originality of the product.
Smart Contracts  
What is a smart contract? 
A smart contract is computer code built into the blockchain which can verify, facilitate or negotiate a contact agreement. Set of conditions can be set for smart contracts, when user agrees to them and conditions are met the agreement automatically gets executed.
Let's say that you want to rent a car from an agency using smart contract. The agency agrees to give you the keys once you pay the security deposit, both parties would send their deal agreements to smart contract which will automatically order the car to be delivered to you once you pay the security deposit. If the agency doesn't deliver the car your security deposit will be automatically refund back. This eliminates process and fees of typical agreement, mediator and attorneys.
What's the future of Blockchain?
From researched first in 1991 till 2020 blockchain has seen many use cases, Everyone speculating what is it capable of and what more it can bring for us in future. Having multiple practical applications blockchain is creating it's way in many direction. No doubt it's an amazing opportunity for IT Developers to create something which will bring many revolutions in Internet. Not only cryptocurrency but blockchain can be a reliable middleman for businesses, governments and individuals providing more secure, efficient and accurate data transmission.
From us there's no doubt that Blockchain and cryptocurrencies will be adopted by everyone in world, Question is not "if" but "when".