In quick intro, Theta Network AKA Theta token provides decentralized setup for video streaming in a manner which is cheap than all current centralized options. Theta Network claims to be next generation video streaming platform powered by it's users.
With smart idea to solve buffering issues in streaming Theta Network pays it's users in Blockchain Tokens for streaming the video content & sharing bandwidth with other users for reducing the cost of streaming.
Not only that users of Theta Network earn sweet financial rewards just for using the platform! Yes you earn money for viewing or streaming videos.
If you're in web technology, you already know that hosting & streaming data online is not easy task and specially audio / video content is very difficult task. If the content is stored and shared from single place it becomes very slow for people around the world to access it.
That's why content delivery network services like Amazon Web Services (AWS) are booming these times for web & media solutions.
CDN simply hosts websites and media files into multiple location across the world so it can be easily accessible when requested from browsers or applications. This is an expensive option however we all demand faster access to data day by day.
YouTube, Twitch, Facebook, Instagram, TikTok, Netflix and many more platforms are booming today as they provide amazing content on fingertips but as video streaming becomes popular the costs to stream content will rise.
In fact, Cisco which is top networking hardware company estimates that about 70% of total bandwidth is used by video streaming and his cost will gradually increase to more than 80% within a year or two. Theta Network aims to solve video streaming industry problem using amazing technology which powers blockchains, Peer to Peer if you guessed it correctly!
Let's take a deep dive into this revolutionary project & technology behind it.
View Theta Network Live Streaming & Earn Free TFUEL
What is Theta Network?
Theta Network aims to cut the cost of streaming video platforms like Youtube, Netflix, HBO, Twitch etc. by reducing the load of content distribution on single network.
Theta Token uses peer-to-peer network technology such as BitTorrent where users share content with each other simultaneously accessing the content. Theta Network pays users for sharing this content with other users.
Focusing on popular video streaming giant like YouTube you must think this project must have strong competition. However, Theta Network doesn't compete with any of the platforms but it provides amazing new generation infrastructure for those platforms. All popular platforms can gain benefits and save expensive streaming costs in very cheap and decentralized manner.
Theta Token team has built amazing solution to solve multiple streaming problems using decentralized blockchain technology and became world's first "Decentralized Streaming Network". When you're watching videos on Theta Network powered platform you receive data in two different ways.
Some content may directly been streamed from it's hosting platform and some directly from local peers using Theta Network.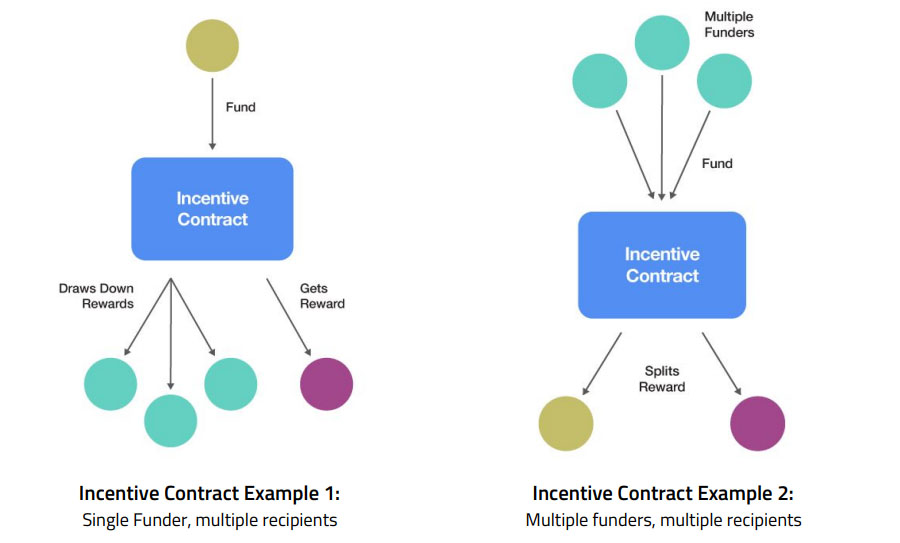 Users are incentivized for sharing their idle computing resources and bandwidth to mine Theta Fuel tokens, This not only encourages users to use the platform but also improves video streaming experience for everyone across the globe.
Here's intro video by Theta Labs explaining their idea.
What Technology Theta Network Use?
Blockchain for Theta network uses Proof-of-Stake consensus mechanism, providing security to the blockchain infrastructure by demanding less computational resources unlike Bitcoin blockchain. PoS consensus mechanism allows multiple different computer or mobile devices to act as viewers and caching nodes for ultra high transaction throughput.
Successful video streaming network requires to address multiple issues for scalability & video streaming. Issues such as; ultra high transactions throughput, large storage consumption, fast consensus and high security and decentralization.
Though all of technical details are available in Theta Network Whitepaper, We will try to explain the process in more easier way so you can understand how Theta Network operates. If you're much Tech Savvy you can always dive into their Whitepaper.
Multi-Level BFT
Theta Labs developed multi-level BFT consensus mechanism which allows thousands of nodes to participate in the consensus process and support very high transaction throughput of 1000 plus TPS (Transactions Per Second). Idea behind this to have small set of nodes forming the validator committee, produce a blockchain as fast as possible using PBFT-like process.
Then, thousands of consensus participants called guardian nodes will finalize the chain generated by validator committee. This provides multiple level of security guarantee with about 20 validators can form consensus quickly and second line of dense is from guardian pool.
Thousands of nodes makes it very tough for attackers to violate integrity of Theta Network which provides higher level of security. Such mechanism provides a good balance within transaction consistency, throughput and level of decentralization which are main three pillars of "impossible triangle" in blockchains.
Resource-Oriented Micropayment Pool
Theta Network created Resource Oriented Micropayment Pool to create off-chain payment pools for off-chain withdrawals. This allows users to create off-chain payment pool using which any other users can withdraw from off-chain transactions. This is designed to avoid double spending and allowing greater stability by keeping micro-transactions away from the blockchain.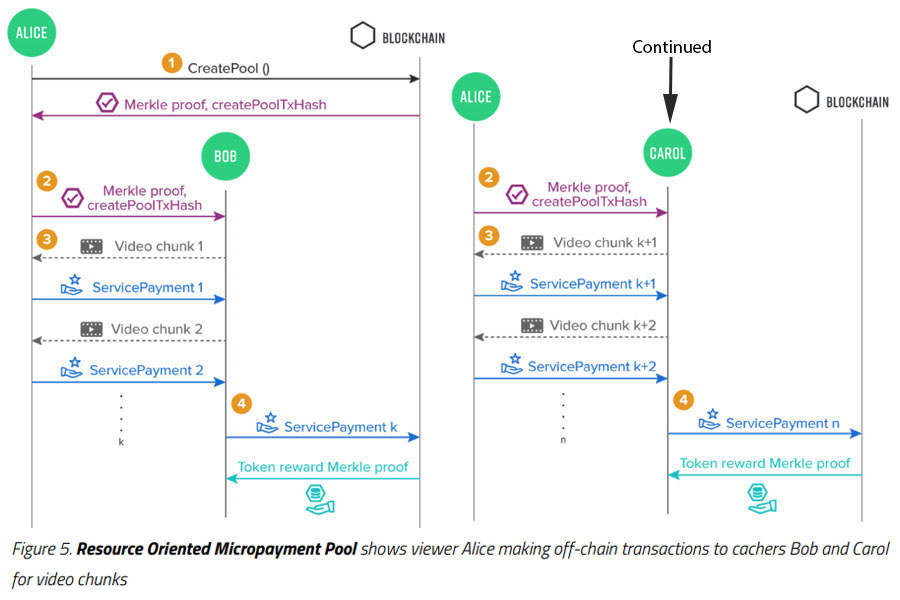 Incentive Smart Contracts
If you don't already know what is a Smart Contract in blockchains, Smart Contracts are self executing contracts written directly in code. Consider this as an agreement between two parties in form of computer code. Just like Ledger in Bitcoin blockchain Smart Contracts are available on public database and can't be altered.
Smart contracts in Theta Network are used to facilitate reward distribution and collection. This can provide great use case for Theta Network such as rewarding users, premium paid video content, Streaming subscriptions, Users gifting to streamers and more. As explained above Smart Contracts on Theta Blockchain are executed by validators, Normal users aren't involved in distribution or validations of contracts.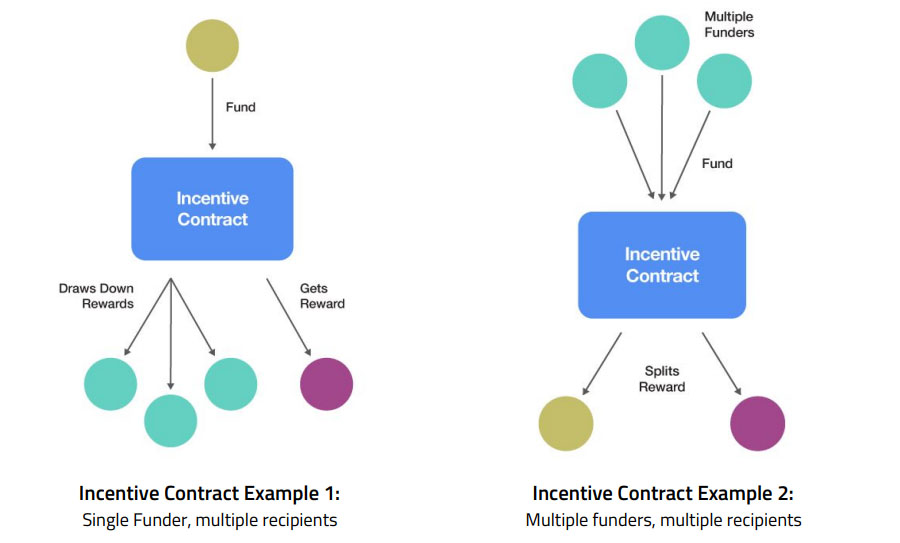 Theta Network Token ($THETA & $TFUEL)
Theta Network users $THETA cryptocurrency tokens to power and support the blockchain. Theta ERC-20 standards token launched in December 2017 and were replaced at 1:1 ratio later 2019 when Theta Blockchain was launched in MainNet. Earlier these tokens were used to reward viewers and streamers on Silver.TV platform for sharing their bandwidth with Theta Network.
At Mainnet event Theta Token Swap also rewarded it's users by airdropping Theta Fuel ($TFUEL) tokens. After few months of Main Net launch Theta Network introduced Guardian Nodes in 2.0 Version of Theta Blockchain. This was revolutionary update of two layer consensus mechanism for Enterprise Validator Nodes which is run by popular global partners of Theta Network including some industry elites such as Gumi, Google, Binance Exchange, Samsung, Blockchain.com.
As stated above along with the mainnet Theta Fuel ($TFUEL) was introduced similar to the 'gas' used in the Ethereum Network, This was one of major aspect as TFUEL is used to power on-chain payment operations for users to share their bandwidth, deploy smart contracts and more. Users (Relayers) earn TFUEL for every video stream they play and relay to other users connected on the network.
$THETA & $TFUEL makes complete economic system of Theta Network, Running smart contract systems, incentivizing users, streaming video and more. Recently announced 3.0 version of Theta blockchain will have new mechanism for stacking and burning TFUEL from ecosystem.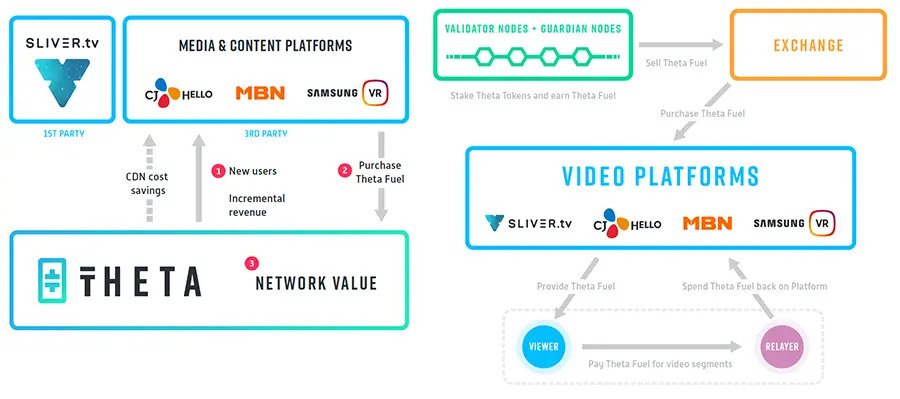 Network Contributors
Theta network is decentralized protocol and it's created with major group of stakeholders.
Streamers & Influencers – As Theta Network is video streaming protocol there's huge role of video streamers and influencers who produce video streaming content. These stakeholders also get Theta tokens for streaming content and chances to earn TFUEL from their viewer base.
Viewers – Those who stream to view the content published by streamers and influencers on theta.tv platform. These are the majority consumers who make best out of the platform by viewing and contributing to streaming network as described. Users get rewarded by TFUEL for sharing their streamed data to others and in future for viewing advertisements.
Advertisers – Advertisers can utilize the platform to publish their products and services to viewers by spending Theta tokens and sponsor influencers.
Caching Nodes – Those are Nodes of computer servers on network with caching services to improve video quality on the server. These stakeholders are also rewarded with Theta tokens.
Guardian Nodes – In version 2.0 Theta introduced Guardian Nodes to finalize blocks in Theta multi BFT consensus protocol. These are run by members of Theta community and rewarded in TFUEL. By staking 1,000 Theta tokens and having access to computer with minimum technical specs can run Guardian Nodes to earn sweet rewards.
View Theta Network Live Streaming & Earn Free TFUEL
Theta Token Team
Theta network team is led by Mitch Liu, CEO & Co-founder of the project and he's co-founder of video streaming website silver.tv, Tapjoy & Gameview Studios. He's MIT graduate in Computer Science and completed MBA from Stanford Graduate School of Business. No doubt he has great experience in Computer Science and Video streaming industry.
Jeiyi Long, second co-founder & CTO of Theta network and silver.tv (Game video streaming platform like twitch) as well. He holds PhD in computer engineering from Northwestern University.
Ryan Nochols, Chief Product Officer at THETA.tv who has experience in designing virtual currency systems at multiple platforms. He's been Director at Tencent for popular messaging application Wechat.
Theta Blockchain Team consist of
Jieyi Long – Cofounder / CTO
Ribao Wei – Principal Engineer
Qinwei Gong – Platform Architect
Jing Xu – Blockchain Engineer
zhenyang Tang – Blockchain Explorer Engineer
Antoine Riviere – Platform Engineer

Rene Garcia – Platform Engineer

Owen Ching – Head of Cloud Operations

Wes Levitt – Head of Strategy

Bruce Chong – Head of Asia Development

Jayson Casaclang – QA Scalability Engineer

Jayne Kim – General Manager – Asia

Jerry Kowal – Head of Content

Vera Chen – Visual designer

Kyle Laffey – Head of Partnerships
Theta Token Partners
To add more into mind power of Theta Network there's amazing team of experts in computer science, video streaming and distributed ledger technology Steve Chen (Co-founder of YouTube) & Justin Kan (Co-founder of Twitch) joined Theta Network as Media Advisors. Not that other media advisors consist experience in huge video streaming and marketing companies like Plays.tv, Gfuel, Sony, Verizon, Rakuten & Microsoft makes Theta gain best advise & technological support.
Theta Blockchain Media Advisors consist of
Steve Chen – Co-founder of YouTube
Dennis Fong – Founder Plays.tv, first esports celebrity
Clifford Morgan – CEO GFUEL
Sam Wick – Head of Ventures, United Talent Agency
Justin Kan – Co-founder of Twitch
Karen Huh – Senior Vice President of CJ Hello
Kyle Okamoto – Chief Network Officer at Verizon Digital Media
Jonathan Wong – Director of Product at Rakuten Viki
Community for Theta Network
Community makes any blockchain project stronger and brings more utilities. Not only that but it's also plays important role to spread use cases and news about the project, hence good adoption of project. Let's fact check this with theta network's top social account handles.
How many Twitter followers Theta Network has?
Theta decentralized streaming platform has whooping more than 180k followers on Twitter which is a great following for any other cryptocurrency or blockchain project out there. Not only that but users tend to love to engage with Theta Network on regular basis.
How many Telegram members Theta Network has?
Telegram groups for official updates and discussions are vital these days for any Blockchain project and Theta Network's Telegram members count is 14,000 users as of today but news and events brings the crowd back into group and it has grown more than 20k in past times.
How many Reddit members Theta Network has?
There are 8,000 plus members subscribed to Theta Network's Reddit handle. If you take a look at their page it looks like abandoned, Possible because users have more instant discussion features through Twitter & Telegram.
How many Facebook followers Theta Network has?
It's not common for Blockchain projects to have much engagements on Facebook however, Theta Network's Facebook Page has more than 60,000 users following for updates and engagement is also noticeable.
Theta Token $THETA Price Analytics
Theta Network Token clenched $12 million in private sale on 4th January 2018. The pre-sale of token has price of 0.15 USD and it doubled in next month of January making an all time high of $0.31 in 2018.
Theta token made an all time high till date is $15.72 on 16 April 2021. No wonder holders of private sale token were most happy on that day with whooping 50x plus returns within few years only. Theta token holds Market cap of $5,555,310,539 and stands on 20 in total Market Cap of Crypto currencies.
View Theta Network Live Streaming & Earn Free TFUEL
Theta Fuel $TFUEL Token Price Analytics
TFUEL was launched to exchanges on March 2019 at price of $0.017, The price declined for few weeks but late May TFUEL saw an all time high rise of $0.025 on 25 May 2019. Surprisingly the hype was huge that it rose 1400% within few days.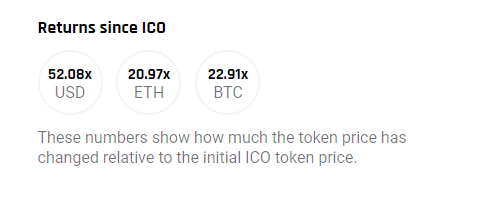 Hype doesn't last forever but technology does, TFUEL price was below it's lowest in March 2020 around $0.00088 and ranging in bottoms which may have got some REKT stories flowing around. However with strong team and project solutions TFUEL rose to $0.68 on 9 June 2021. That brought even more massive returns for Investors in Theta Fuel.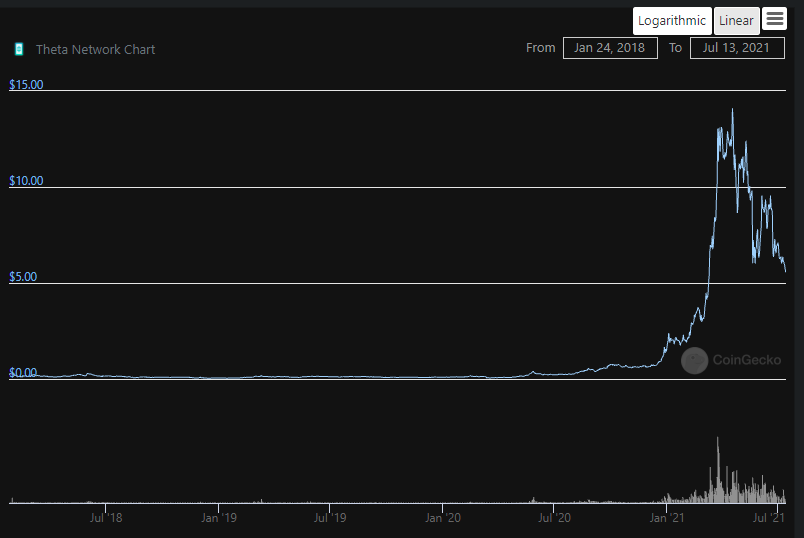 How to buy Theta & Tfuel tokens?
Theta & Tfuel are listed on world's top crypto exchange Binance as they've partnered as an node operator. Binance always has good liquidity and volume for trading both tokens. Apart from that it's also available on Wazirx, Huobi, Upbit and other few exchanges with smaller volumes.
Get your Binance Account using this link to get 10% discount every time you make a buy or sell. Also get chance to win upto 50,000 USD in Crypto.
Theta Network Development Roadmap
If you've read through you now understand that Theta Network project is not only just any other blockchain project but something which stores so much potential value and becoming the next big thing in decentralized web 3.0 for video streaming. While team doesn't care much about the price of token but they're doing amazing at thing they're best at. Development! Yes development it is to build great solutions for us all.
As Theta Network has already mainnet blockchain and a functional video streaming platform here are some technical and advancement road map they released for 2021.
Q1 2021
TNT-20 "Theta Network Token" minter expanded for NFTs
Pre "Elite Edge Node" (TFUEL staking testing)
1-click Delegated staking within Theta wallet
Decentralized exchange (DEX) on Theta blockchain
NFT marketplace on Theta blockchain
2nd Theta Hackathon launches
Q2 2021
Mainnet 3.0 Launch: Elite Edge Nodes, TFUEL staking and burning
LINE Dapp launches with Theta integration
Official Theta app released for Ledger and/or Trezor
v2 Edge Compute with expanded video transcoding/encoding
Q3 2021
Edge Caching new use cases (game patches, software updates, etc.)
Edge Compute new use cases (Machine Learning, AI, other compute-heavy jobs)
v2 Edgecast fully decentralized streaming Dapp
Q4 2021
Beta of Edge Storage / IPFS integration
v2 Advanced Smart contract developer platform
To keep up with latest updates on above you want to head over to official blog page for Theta network.
For final notes in this blog post about Theta Network and Decentralized Streaming solution
Since 2016-2017 the project has accomplished so many things. From a common streaming platform silver.tv to most uncommon streaming platform Theta.tv the project is really doing spectacular upgrades to blockchain and video streaming industry. The project holds multiple patients in US, launched 3.0 mainnet successfully yet team working hard to accomplish more in timely manner.
Video streaming demand has increased the most till now and what team visions are looking amazing. However do not forget that there are many hurdles in between for team to cross as there's nothing like this ever done before on planet earth. Only time will tell if Theta & Tfuel goes to moon changing how we stream data today or it'll just become another milestone project to try something new.
In my opinion despite of Bear market alike situation Theta token holds 20th rank and Tfuel holds 54th rank which is major accomplishment till now and there are high chances that with mass adoption of such project the team has more good days ahead.
That's all for now folks! We will understand more components of Theta Network in depth and also deep dive to latest updates of the most amazing decentralized streaming project yet!
View Theta Network Live Streaming & Earn Free TFUEL
All credits for resources & data www.thetatoken.org