You're probably here because struggling about how to choose a perfect domain name, Selecting right domain name is very important thing when it comes to branding and first step before building a website. Your domain will showcase very important aspects to your visitors about your business, brand, product or service. Here we have complete guide and tips for you to read before selecting your website domain name. After reading creative technical tips you'll be able to select amazing domain name which is unique and totally represents your brand identify.
What is a domain name?
Domain name for website is a unique memorable name which points to a unique numerical address (IP) on the internet. Domain names usually consist of sequences of letters, numbers and separated by one or two periods "." which hosts publicly available content or private intranet content. 
Selecting the right Domain Name for your website is very important for your website to succeed. Wrong domain name can create many problems in future for your brand and search engine rankings. 
We have useful guide to help you choose a perfect domain name for your website from the beginning, before lets dive into some technical.
Why is perfect domain name important?
Your domain name is the address of your actual website on the Internet and so it's an important aspect that impacts your website's success. 
 Unique and easy to remember names are likely to make a brand impact in your customers mind and encourage them to visit again.
Domain name is very important for

SEO (Search Engine Optimization). 

Your visitors can immediately grasp what your website is about from domain name. 

Names can make a huge impact in branding. 
Hence, picking your domain name is a very important process and you want to consider all options before choosing the perfect one. 
Before we go through the guided checklist it's vital to understand what different types of domains are available in the market. 
TLD – Top Level Domains 
As the name suggests these are top level domain extensions in DNS (Domain Name Service) of the internet. They include extensions: 
.com – Short for "Commercial", You must know this extension as it's widely popular for commercial organizations, businesses and email. 

.net – Short for "Network", .net was created mainly for network technologies which provided internet or network services. However .net is very popular domain after .com

.edu – Short for "Education", Majority schools and universities use this domain extension in conjunction with their country domain. Eg.

www.university.edu.us

or

www.school.edu.uk

 

.org – Short for "Organization", Mostly used for non profits but since there are no limitations and verifications required .org domains can be used for profit businesses, communities etc. 

.gov – Short for "Government" .gov domains were earlier reserved for American Government Agencies but nowadays it can be used by any government entity in the world.

.mil – Short for "Military", same as .gov domains .mil domains were created for US specific military agencies but still it can be only used by US military only. 
ccTLD – Country code Top Level Domains
Since all domains are unique scientists discovered the shortage of domains soon which can put limitations on usability of domain names. They invented  geographical country specific Top level domains which can be used in conjunction with other TLD. That doesn't limit those domains in specific areas but helps identify specific content by name of domain. 
ccTLD uses two letter domains from countries or geographical locations. As an example USA, United Kingdom, India uses .us, .uk and .in respectively. 
There are so many new domain name extensions available to register today from .com to .pizza but you must consider the below checklist before making your decision. Without any further wait here's the guide for you for choosing your perfect domain name.
Guide on selecting your perfect domain name
1. Always prioritize .com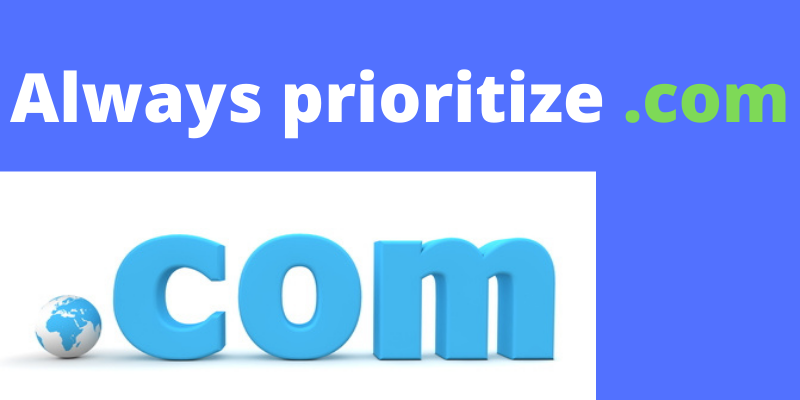 We always recommend selecting a .com domain name if your website is commercial. It can be cool to have funky domain extensions but .com is the most credible domain name extension. That's the first and important tip of this guide.
Dot-com domains are very popular and trustable for those who are not techy and very likely to write .com after all domain names. 
After adding .com to your bag you also want to book appropriate domain name extensions as we explained above. If your business is going to be country specific you must purchase the .us or .au extension of the same .com domain. Having that it becomes tougher for domain flippers to book the same domain name with extension and sell it at a very high price to you later. 
If you also want to add specific extensions related to your business like .net, .org, .dev, .io etc. is another good option to have your brand names secured and later used to expand the business.   
2. Use Search Keywords that describe your website in your Domain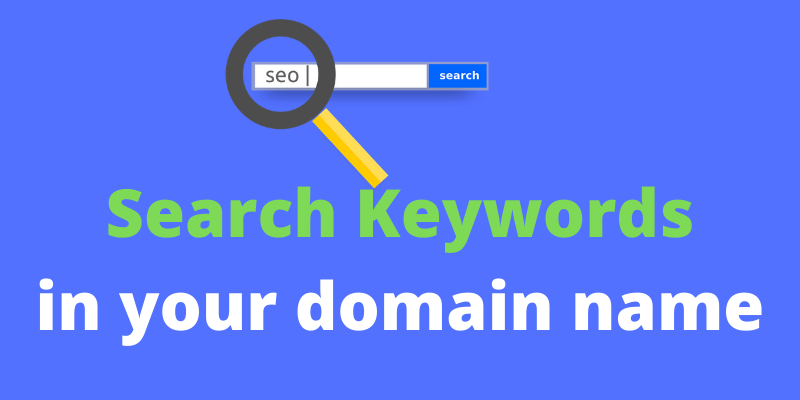 Second tip in this guide is Using your keywords in your domain name search engines and visitors can easily understand what your website is about and having Keywords within the domain makes it easy for your SEO company to rank in search engines. 
There are multiple options to generate ideas for your domain, you can easily select your website domain on your own name or business name but you still need to consider an important key for a perfect domain name which is the search keyword.
Having a search keyword in your domain name is the smartest option for many reasons. Main is to describe what your content is based on. This way you get SEO benefits by getting good rankings in search engines as Google, Bing, Yahoo, Yandex or Privacy Specific Search Engine like DuckDuckGo. 
Researching your domain keyword is fortunately easy due to availability of free SEO tools like Google Keyword Planner, Keyword Tool and KW Finder. You want to use the keyword which has high search volume and low competition to kickstart in search engines. Do not forget you want to use the keyword which represents content on your website and possibly the name of the business. 
As an example. Our domain bkwebdesigns.com has BK which represents the company Byteknight Creations and Web Designs which is a long tail important keyword describing work we do.
3. Keep it Short and easy to remember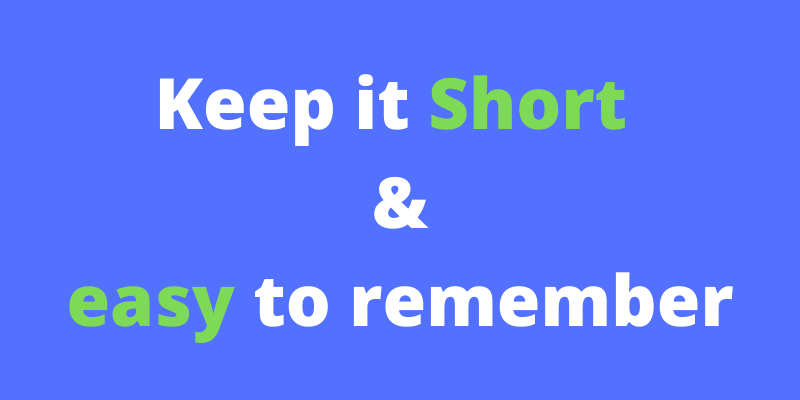 Though keywords are important you don't want to add complex and long keywords to your domain. It's good to keep the domain name short and memorable. We advise to keep it under 15 characters or less otherwise it will become very hard to remember for your users. 
4. Combine it with Unique name and Brand Identity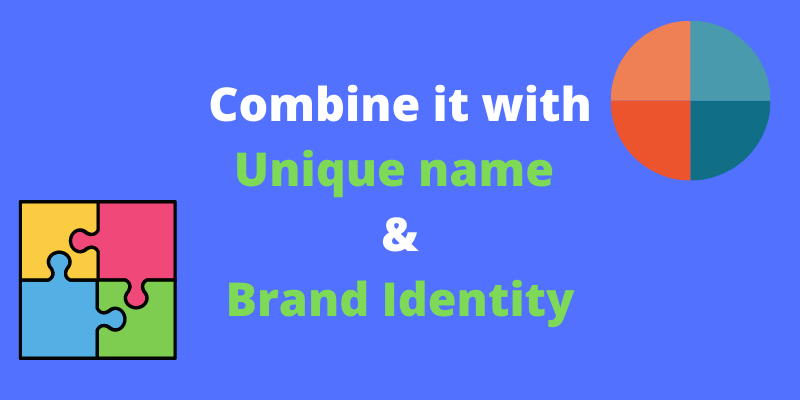 Having a unique name certainly makes a good impression and you stand out from others which has a good impact on visitors psychology. You can also do google search to research the name of another website in your niche to see what different names they're using. Keep in mind that you don't want to get troubled copying other trademarks or this may lead to legal troubles. It's smart to perform check trademark search  if someone has already registered  for the same name. 
Rule of branding guide is to choose a domain name which is Unique and super catchy.  As an example Google.com is more catchy than having searchengine.com or searchdatabase.com 
5. Avoid double letters, Hyphens and hard pronunciations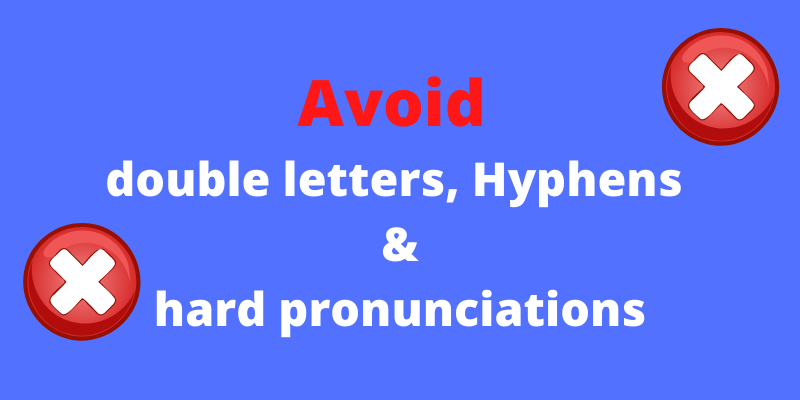 Final advise of this guide is, Having Hyphens, double letters and tough pronunciations is not google ideas because it increases chances of losing traffic over spelling mistakes.
Hyphens can usually make an impression of having a spam domain and lose trust even before your visitor comes to your website homepage. 
Bonus Tip – You better act fast because domain names sell quickly as they're not that expensive and can become a great return on investment, especially for easy to remember domains. If you feel you've found a perfect name you want to book the domain immediately before it becomes unavailable or for a resell. 
Those 5 guided points will be very effective if you're buying your domain for the first time but we have some advanced tweak techniques which can put you up front in the race of brand building. 
Creative Tips on selecting your domain name
Everybody needs to equate their organization and its brand image or product and services with an exceptionally infectious and memorable domain name. As we stated above you want something which can be easy to remember and something that mirrors the real essence of the company, something speak volume about company's belief, something unique and exceptional. All those combined can make a perfect domain name for you.
Let's explore some creative tips in this guide article which can help you finding a great domain name.
1. Using a Thesaurus 
Thesaurus will help you with list of multiple synonyms that you can select from and possible you can find more valuable and sophisticated words that you haven't heard or can not even think without help of thesaurus. Those words can be very catchy and represent the idea you have for your name. However don't pick words that can totally confuse your audience or doesn't make sense at first impression.
2. Tweak & play with words, characters
Using some humor within your selected words can be a great idea and help you make your brand name unique. You can easily find the domain name with simple word but that is likely already booked or marked as premium expensive name. Changing the word slightly can make huge difference and leave impact on your visitors mind.
Eg. When one of our client wanted to book woman.com It was already booked by a broker and the cost was so hefty she almost gave up on that name. From our idea we booked womxn.com which is actual alternative spelling of the English word woman and cherry on top it served the actual purpose of the website. Smart isn't it!
3. Consider unrelated words 
Your domain name doesn't necessarily be the actual name of your company or brand but anything of that kind. You can select something which it totally different but not irrespective to your business. for an example if your business name is Fashion Store, It will be very difficult for you to find your domain name with both top keywords. You can chose  'fashionsto' or 'vfashion'
4. Boost your imagination and make up a name
This one is just more creative, you can create a word by yourself and use that for your domain. It doesn't even need to be a real life word or have a meaning but it still can use to represent your brand. More than 2 billion domain names registered on internet choosing something creative is more easy option for you rather than finding best suitable match of your company name.
You doubt this? Let's see real life example of big brands who used exact same strategy and now you know them by their name! Google, Yahoo, Pepsi, Red Bull and more..
5. Ignore suggestions by automated tools given on your domain registrar website
To be completely honest, Automated tools given on your domain registrar which helps you gather up all meaningless words which can be similar to your original choice. They're silly and not thought up having your target audience in mind.
Instead you can use two words which truly represents your brand or business and merge them. Yes that's the easiest method to get a completely unique and memorable domain name which even has a meaning.
For an example if your chose words are Fashion & Store you can easily make it up as 'Fashtore" or something else. Easiest way to do this is collect some meaningful list of words in two or three different parts and use merge words tool to see what fits best. Hopefully you'll find something awesome here!
Since you've already grasped the most important factors on domain name here are some good Domain Name Registrars on our hosting page to Jump and purchase your perfect domain name now!! 
Do not forget to leave your queries and comments in the comment section below..